The SHAC's SUP Yoga is a welcoming and safe space for all to have a play and experiment with movement, breathing and meditation on the water in beautiful surroundings amongst nature. Both Yoga and Stand Up Paddleboarding are great for building strength, balance and coordination as well as encouraging mindfulness, peace and inner calm. By combining the two we can bring awareness to the physical body and mind. We can explore what our body can do for us and what we can do for our body.
From start of May SUP yoga is on Wednesdays and Fridays at 6.30pm.  
SUP yoga sessions take place in the Surrey countryside at The SHAC Lagoon at Buckland Park, RH3 7BG. We sometimes hold sessions at our other Surrey Hills locations – check our social media for the latest news. We have a variety of course options, all include free board and wetsuit hire, see below:
Read this before you Book
It is very rare that anyone falls in the water (unwillingly) during one of our SUP yoga sessions so regular yoga clothing is perfect.
You may wish to wear layers depending on weather conditions.
Please also bring a spare set of clothes & a towel (just in case) and a drink of water.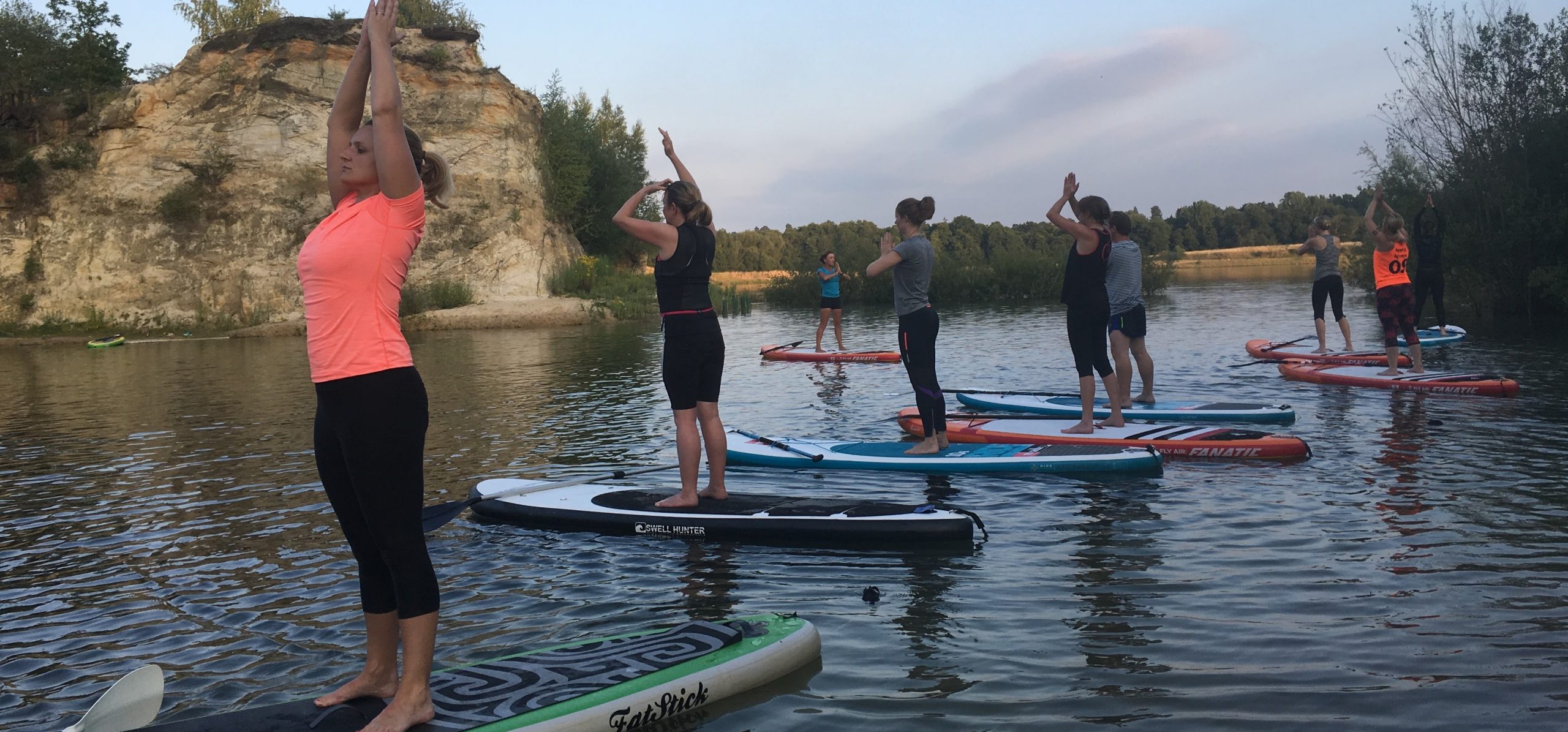 Book a single SUP YOGA SESSION
… for beginners and experienced yogis alike. Whether or not you are familiar with SUP Yoga, SUP or Yoga join us for a drop-in session to discover something new about yourself or to build on your skills as a SUPer or Yogi. There is something for everyone in these sessions with lots of variations to help support what feels right for your body and balance and to enjoy exploring and experimenting in a playful and non-judgemental space. Book here.
About SUP Yoga
SUP yoga brings familiar yogic traditions such as movement, breathing and meditation to the water. Floating on the water and immersing in nature encourages the mind, body and soul to find comfort, rest and release during breathing practices and meditation. During movement we may find energy, focus, body awareness, challenge and balance. All is welcome in restoring our body's natural rhythm and cycle. Finding space to play, laugh, focus, release and explore who you are.
Private Groups
If you would like to know more about booking a private SUP yoga session for a group please contact us at info@theshac.co.uk for more information.